Top-Rated Commercial Electrician Near Huntington Woods MI
Quality Craftsmanship & Service for Over 15 Years!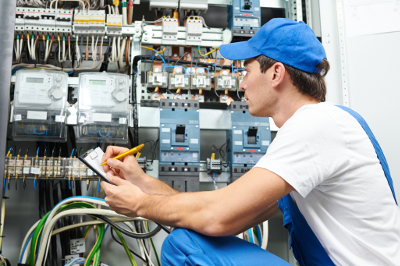 Triple H Electric is a small family-owned business and we specialize in electric wiring services to both residential and commercial properties. We believe in honest, reliable service and provide that for our customers. Licensed and insured, our electricians receive proven training and trusted tools. We are the best at what we do and are here to serve you with whatever electrical issue that arise at your home or business. When you work with us, we will educate you on what your problem is and go through a solution so that you can have proper and safe electrical wiring.
If you are in need of electrical improvements, consider Triple H Electric. We are able to visit your home and provide an on-site estimate that can meet your budget. Our services are affordable and we stand by our craftsmanship by offering our customers with a three-year warranty on our work. Our customers are our first priority. If you feel like we haven't given you work that meets your standards, then we will come back and fix it!
---
Residential & Commercial Commercial Electrician
Whether you need a repair or a panel upgrade, Triple H Electric is the electrical contractor for you. We are Huntington Woods's most trusted electricians and guarantee impeccable services from our skilled team of technicians. We have the training to make your electrical system safe and upgraded efficiency.
Residential Services
Lighting Fixtures -- Serviced, Repaired and Installed
Interior Lighting Design and Consultation for Comfort and Effect
Rewiring for Your Remodeling Projects
New-Home Construction Wiring
Small Appliance, Intercom, Doorbell, Etc., Installation
Underground Wiring -- New Installation, Locating, and Repair Work
Smoke Detector Wiring and Installation
and more!
Commercial Services
Landscape and Outdoor Lighting
Lighting Design and Maintenance
New Outlets/Circuits
Power Distribution
Service Conversions
Site Lighting
Standby Power Systems
and more!
We are always prepared for whatever electrical service you need! With a wide variety of residential and commercial services, trust Triple H Electric for the job. We are known across Southeast Michigan for being the most reliable and efficient electrical contractor.
---
At Triple H Electric We are the Most Effective Commercial Electrician in Huntington Woods MI
Here's What Our Customers Have to Say:
"Everything was first rate. We've used them once before and continue to be very satisfied. I highly recommend them. I called and got an appointment in three days. The electrician arrived right on time, calling us in advance to let us know he was on the way. Chris was very professional, knowledgeable and friendly. He diagnosed the situation, figured out the problem that I could not figure out, and hooked everything up just right in a very short time."
-Angie's List User*
---
"Chris arrived on time, professional in appearance and manner. Quickly came up with a plan to reach,
remove old and install new fixture in 20 Ft ceiling. Chandelier was smaller in size , approx 25 lbs. Job
came in under quoted estimate."
-Angie's List User*
---
"I use him regularly and I would highly recommend him. He is very knowledgeable and very
reasonably priced. I have not had any issues with his work."
-Angie's List User*
---
For more information about our services, contact us today! We would love to come to your home and give you an on-site estimate!